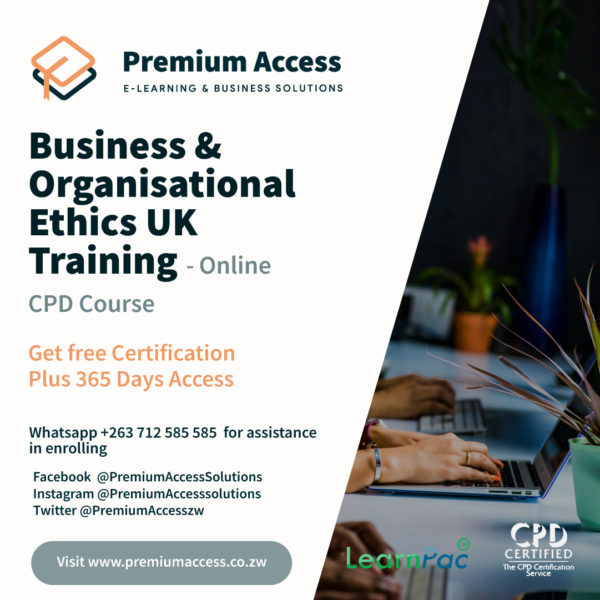 Business and Organisational Ethics UK Training – Online CPD Course
ZWD4,500.0
Welcome to our online Business and Organisational Ethics UK training course.
LearnPac Systems is a leading UK provider of accredited online training courses, programmes and qualifications that are approved by the CPD Certification Service (CPDUK), Training Qualifications UK (TQUK), RoSPA, IATP, IFE, IIRSM and Gatehouse Awards.
---
Only logged in customers who have purchased this product may leave a review.
Related Products
Business Ethics Training – Online Course – CPDUK Accredited

Welcome to our online business ethics training course. All our online training courses, programmes and qualifications are accredited by the CPD Certification Service (CPDUK).

A company's ethics will determine its reputation. Good business ethics are essential for the long-term success of an organisation. Implementing an ethical program will foster successful company culture and increase profitability.

Developing a Business Ethics program takes time and effort, but doing so will do more than improve business, it will change lives.

LearnPac Systems is a leading UK provider of accredited online training courses, programmes and qualifications.

ZWD

3,500.0